Climbing Island Peak is very special as it offers true trekking and mountaineering experience, it is both intoxicating and scrupulous. This expedition will take you to the Everest base camp and then to the top of Island Peak. It is highly subjective as from where you get best views of some of mighty mountains like Everest, Lhotse, Nuptse, Cho  Oyu and many more. But one thing we can say without doubt that it is pretty great to reach the Everest base camp but climbing a peak is whole another level. And that's why this expedition is so special. The Island Mountain whose peak is at an altitude of 6189m derives its name due to its geographical location as it is located right in the middle of Chhukung valley, similar to an island in the oceans.
DAY 1 – REACH KATHMANDU
Altitude:  1350 m / 4428 ft
Kathmandu, the colourful capital of Nepal, is a fascinating blend of traditional architecture and symbols of the 20th Century. Its rich artistic and cultural heritage is evident where ornately carved balconies mingle with beautiful shrines and temples. It is the gateway to Nepal Himalayas and stands at the elevation of 4,400 ft. Arrival before 3 pm is preferable. This day will be having orientation and activities to interact with your fellow trekkers.
DAY 2 –  ACCLIMATIZATION DAY AT KATHMANDU
This day is dedicated to exploring the vibrant capital city of Nepal. The Durbar Square with it's temples, markets and busy atmosphere is a must visit. It is also worth the climb to visit the Swayambhunath – the 'monkey temple'. Explore the network of street markets and alley bazaars and Pashupatinath. The neighbouring towns of Patan and Bhaktapur are well worth a visit.
It can be a paradise for people with religious bent of mind as you will find many monasteries, temple and places to visit in Kathmandu. You can visit Hanuman Dhoka which is considered to be one of the must visit place in Kathmandu. To soothe your spiritual senses, you can also visit the Golden temple which is untouched by earthquake and was founded in the 12th century. A spectacular view of first stupa at Bodhnath draws the attention of a lot of tourists. Or you can take a stroll by the Garden of Dreams which has some of the most serene and gorgeous enclaves.
You can also participate in some of the adventure activities like Hot air Balloon, Bungee Jumping or Rock Climbing. But as you are participating in Everest Base Camp, it is in itself a great adventure experience.
DAY 3-  FLY TO LUKLA, TREK TO PHAKDING
Altitude: 2651m / 8700ft
Time taken: 40 minutes flight, 3 hours trek, 9 km
Trek gradient: Easy. Gradual descent throughout.
Leaving from Kathmandu, you'll brave an early morning flight to Lukla – a small aircraft where the engine roars for the full 40 minutes (muffled in vain by the complimentary cotton wool from the flight attendant that you're urged to stuff into your ears) while the wind lightly wobbles you in the air, a roller coaster ride through the mountains. You fly through small hills, amidst a high turbulence weather conditions until you touch down on the famous short, steep and precarious mountain-side run way. The base camp trek begins the moment you land there.
Lukla is pretty and charming. Little shops are stocked with colourful beanies, silk scarves and shawls made from yak wool. The trail to Phakding is mostly descending. After a small forest trail in the beginning, you will walk through Nepalese villages surrounded by a lot of vegetation.
DAY 4-  PHAKDING TO NAMCHE BAZAAR
Altitude: 3438m / 11280 ft
Time taken: 5 hours
Trek gradient: Moderate. Initial level walk for 30 minutes followed by an undulating trail for a few hours. Steep climb to Namche hereafter.
With an early start of the day, it involves five hours of climbing and steep steps through stunning forest, crossing rivers via vertiginous, swaying Swiss suspension bridges over rivers and be awed by the Sherpas, who resemble teenagers, each carrying three or four backpacks bundled together. The trail, lined with blue pine forest, follows the river valley and is especially spectacular in spring when the rhododendron flowers are bright in bloom. Cross the Dudh Kosi River at Benkar, and look way up above 6,000 metres to see the peaks of snow-capped Kusum Kanguru (6369m) and Thamserku (6623m). Press on to Monjo (2835m), a good place to break for lunch.
Monjo village is the mid-point of today's trek. Highlights of the day include entering the Sagarmatha National park, spotting the Kongderei and Thamserku peaks, and getting your first Everest view point. The happiness of reaching the destination at the end of the day is such that it sends your adrenalin levels pumping high.
IIMK & IIM B students crossing swinging bridge
DAY 5-  ACCLIMATIZATION DAY/REST DAY – NAMCHE BAZAAR
Namche is the capital of the Khumbu region. The village is located on crescent shaped mountain slopes that offer stunning views of the mountains across the valley. As Namche is the first place on the trek that is above altitude sickness threshold, we ensure trekkers stay an extra day to let their body get acclimatized to the pressure and oxygen levels at that altitude.
Namche is a prosperous Sherpa town and an important trading centre. It has a weekly market on Friday afternoon and Saturday morning but the town bustle all day every day with trekkers, coffee shops, bakeries and stores selling all kinds of trekking and climbing gear as well as Tibetan souvenirs. Namche gained its importance during the period when Tibetan salt was traded for the lowland grains of Nepal. Rugs, clothing, salt and dried meat still all do a roaring trade in the village centre, so haggle for any extra supplies you might need.
This day we will hike to Everest view hotel, 3800m, highest point during the trek past the Himalayan airstrip at Shyangbonche. Built by the Japanese this spectacularly situated hotel with wonderful views of Everest and Ama Dablam is an ideal place for a tea break. Those trekkers who are with full with abundance energy can walk up to Kunde and visit the Edmund Hillary Hospital. The twin villages of Kunde and Khumjung are set below Khumbila, the rocky peak sacred to all Sherpas. For much of the walk, we have great views of Ama Dablam and other Himalayan giants. We walk back down through Khumjumg, to the monastery. Sadly, it was damaged in the earthquake but is now being repaired. Inside is a small box and after paying the entry fee (which goes towards the repairs) we will be shown the only Yeti skull in the world!
Taking a walk to see both the sunrise and sunset views from the national park headquarters above the village is also a great option. This stunning vista includes a super panorama of the Khumbu peaks and great views of Everest. The national park headquarters are home to interesting displays about Sherpa lifestyle and culture, and the local flora and fauna.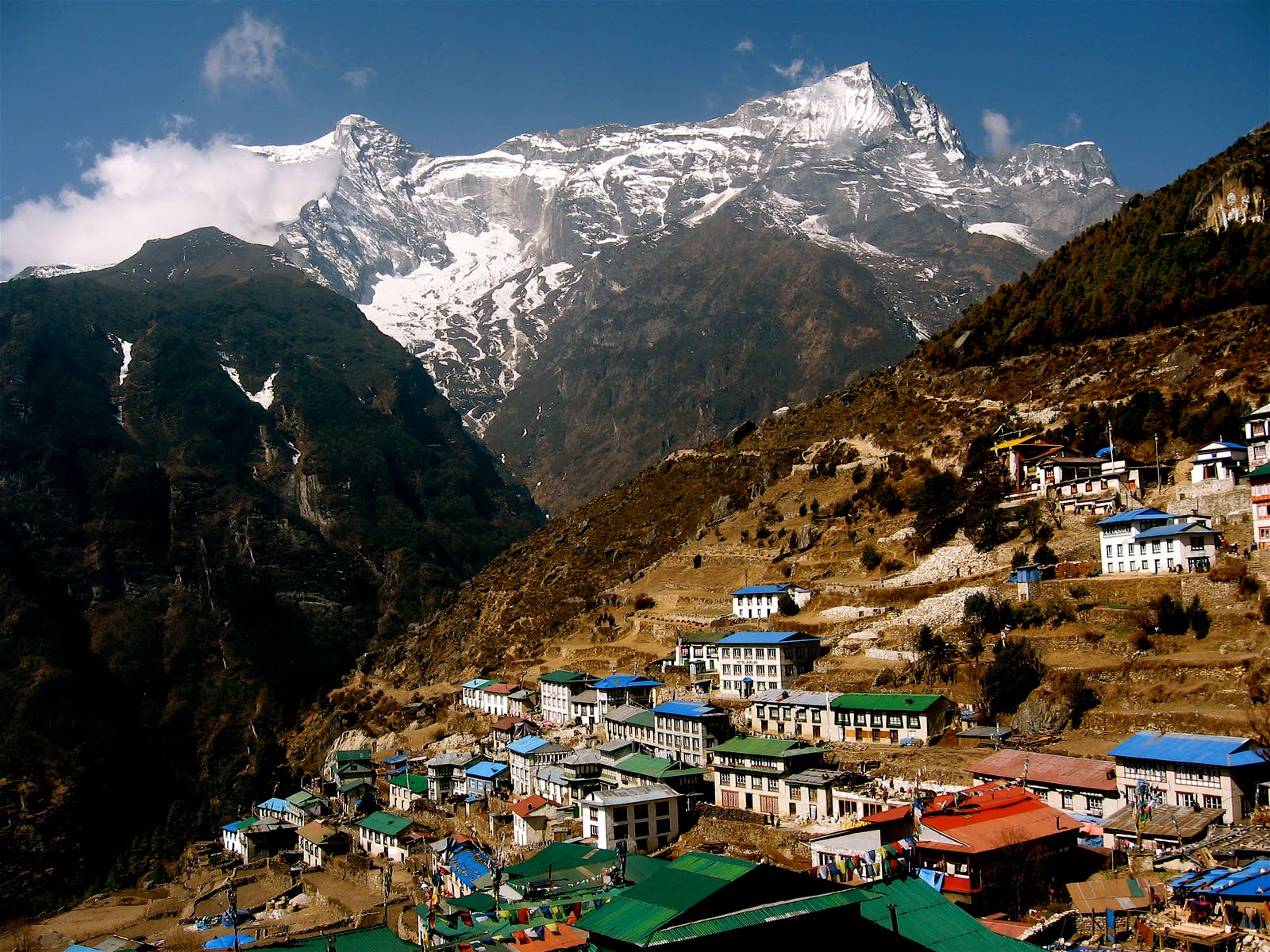 DAY 6- NAMCHE BAZAAR TO TENGBOCHE
Altitude: 3870m / 12694ft
Time taken: 5 hours
Trek gradient:  A sweet decent past the river followed by a steep hike to reach the Tengonche monastery.
We will be here by lunchtime and in the afternoon we will visit the famous Tengonche monastery. The sunset and sunrise on the fantastic panorama of mountains surrounding us are not to be missed – Everest, Nuptse, Lhotse and Ama Dablam provide a wonderful backdrop to our teahouse. Look out for Himalayan Tahr in the forest surrounding the monastery.
If you are hiking in the month of spring- februray to may, you will come across the famous Rhododendrons across the routes.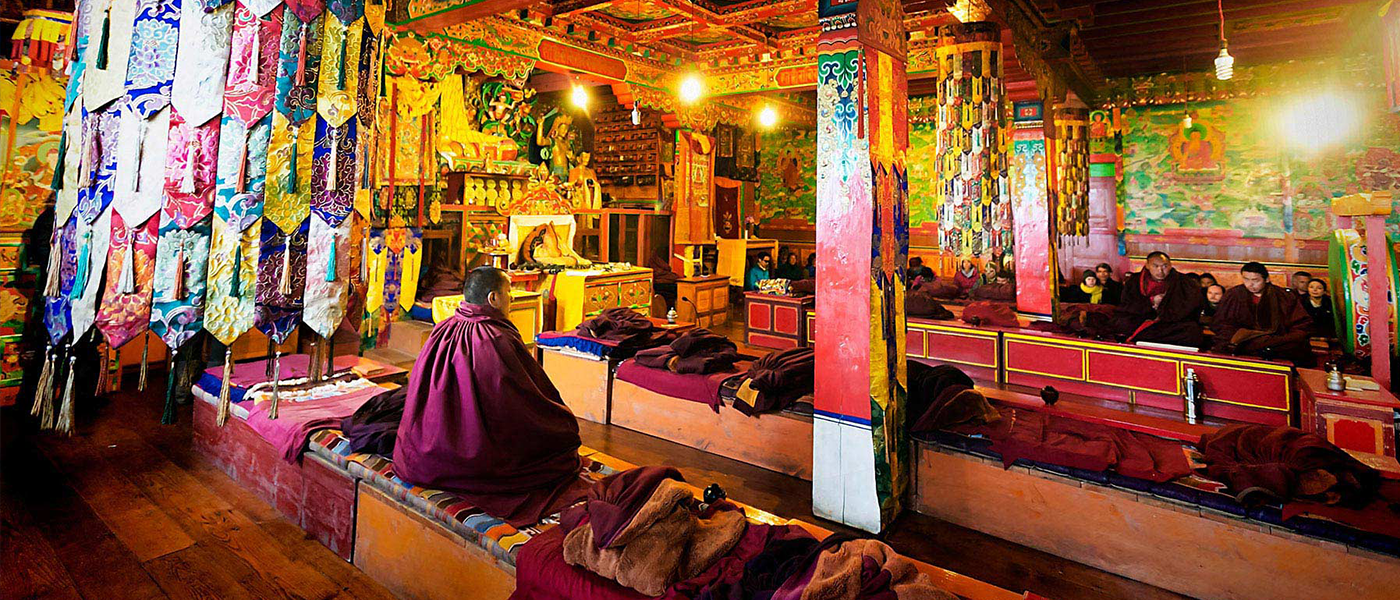 DAY 7- TENGBOCHE TO DINGBOCHE
Altitude: 4360 m/14300 ft
Time taken: 5 hours
Trek gradient: A gradual descent and ascent throughout the trek.
Climbing steadily the trail we will enter Pangboche, 3,900m, the highest permanent settlement in this valley.
Ascending the valley, we have lunch at Shomore, after which we leave the trees behind and cross a wooden bridge at the confluence of the Khumbu and Imja Kholas. A short steep climb brings us to Dingboche, at 4,530m, a summer settlement above tree line where great peaks above 7000m surrounds us.
DAY 8-  ACCLIMATIZATION DAY / REST DAY – DINGBOCHE
We spend a day at Dingboche to continue our acclimatisation. Those adapting well to the altitude can climb Nangkartshang Peak at 5,100m for great views of Makalu, Lhotse, Chalotse, Tawoche and Ama Dablam. If you've forgotten, acclimatization days are aimed at preparing the body for the elevation gains to come (aka to decrease the risk of acquiring some altitude-induced ailment – which could kill you). These days require hikers to head up to as high an altitude as they can manage before then descending to sleep at (or around) the altitude the day began at.
IIM B students at Nagarjuna Peak
DAY 9- DINGBOCHE TO LOBUCHE
Altitude: 4940 m / 16207 ft
Time taken: 5-6 hours
Trek gradient: Hike on this day a range from moderate ascend to walking on flat ground.
 The trail from here follows past a chorten to reach dugla, at the end of moraine of Khumbu  glacier, an ascending hike makes us reach Chukpo Lari, a beautiful, yet poignant place where there is a line of memorials in tribute to the climbers who have died on Everest. From here you can see a beautiful paranorma of peaks lying at Tibet-Nepal border. Now it's a gradual hike to Lobuche, where there are few tea lodges. Sunset at Nuptse is something not to be missed at all.
DAY 10- LOBUCHE TO GORAK SHEP, VISIT EVEREST BASE CAMP
Altitude: 5170 m/16961ft (Gorak Shep); 5364 m / 17594 ft (EBC)
Time taken: 6 hours
Trek gradient: Gradient is moderate with ascends and descends.
Everest base camp prior to year 1991, Gorekshep a place with hardly 4 settlements is the highest place we will be staying.
A long, hard day today as we leave very early, following the Khumbu Glacier northwards to Gorak Shep (5,184m). The trail undulates up and down the moraine with some short steep sections. We start by walking across the sandy flat at Gorak Shep and climb onto the lateral moraine of the Khumbu glacier. The trail ascends the side of the glacier for a couple of hours before finally descending onto the rocky glacial moraine itself. The trail winds up and down through fascinating ice seracs to the area known as Everest Base Camp, where in spring, we might see in the distance some of the expedition teams as they prepare to climb the mountain. From the Base Camp we get fantastic close up views of the Khumbu Ice Fall while Nuptse towers above us and Pumori rears up behind us.
DAY 11- GORAK SHEP TO KALA PATTHAR TO LOBUCHE
Altitude: 5,545m / 18,192ft to 4280 m/14037 ft
Time taken: 6 hours
Trek gradient- Hike to Kalapathhar is a steep hike of 2 hrs. Rest entire day is descend.
You will witness one of the best views and sunset of your life from this place, though it will be a long trek this day, you will walk through windy yet one of the most beautiful valleys to reach Lobuche.
This climb affords a magnificent view of the Khumbu Glacier and above all a close-up view of the world's highest mountain. We return to Gorak Shep and retrace our steps to Lobuche and stay the night there.
DAY 12- LOBUCHE TO KONGMA LA TO CHHUKUNG
Altitude: 5535m (Kongma la); 4730m (Chhukung)
Time Taken: 6-7 hours
In the morning after breakfast, we trek via the beautiful Khumbu Glacier to Kongma La Base Camp which is at 5,000m. The hike to Kongma La pass is the most beautiful pass in Khumbu valley and also the most difficult one for today. Kongma La welcomes us with a beautiful sight of cairn wrapped in player flags. Later, we gradually descend to to the vast Imja Khola valley followed by another steep descent to  reach Chhukung which is a small settlement open in summers. We will make preparations for the summit bid and stay the night in Chhukung.   Later, we descend gradually to Imja Khola valley, followed by another descent to Chhukung, a small summer settlement. After reaching Chhukung valley, we will check our equipment to get ready for our ultimate climb. Overnight in Chhukung.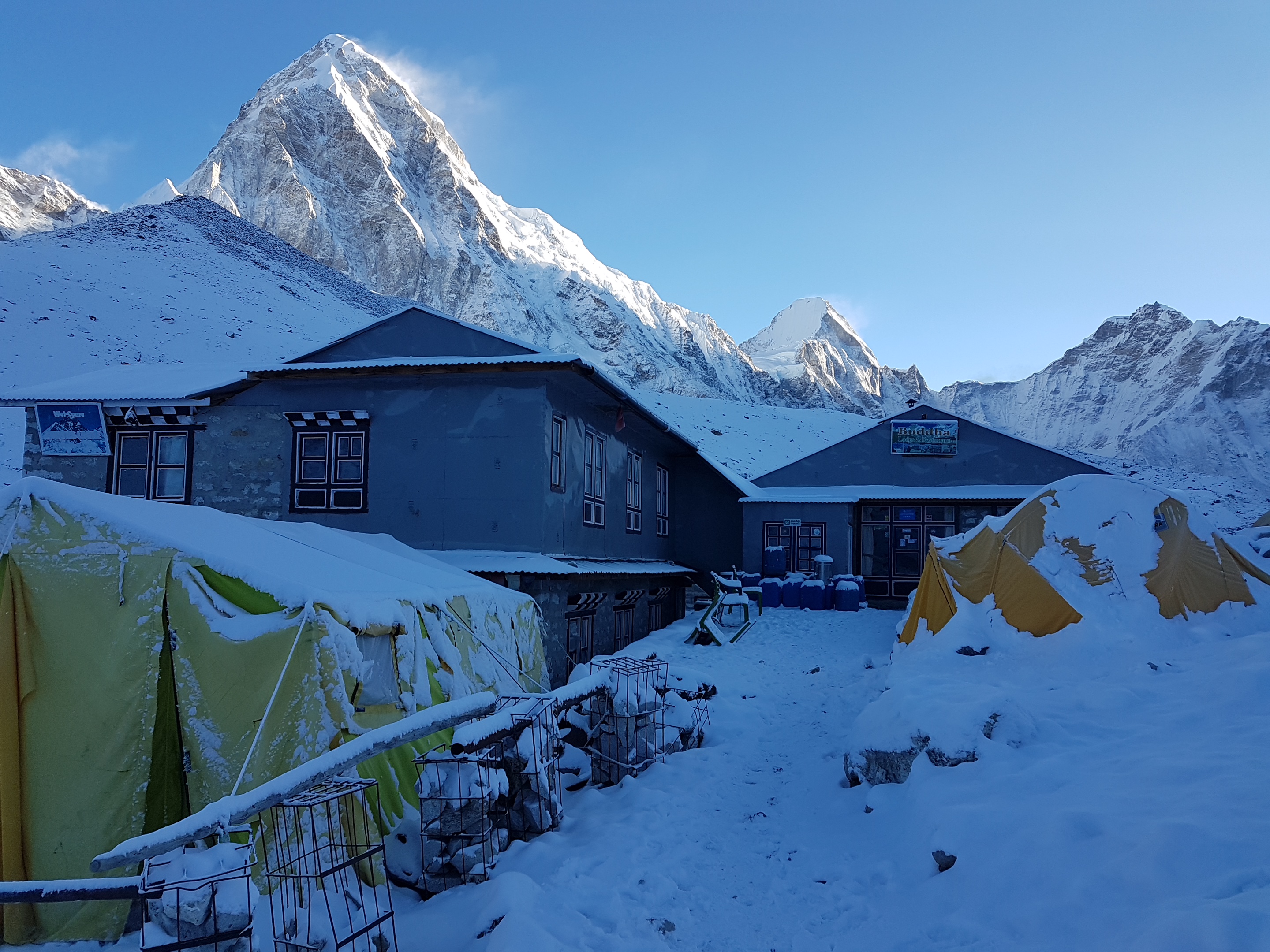 DAY 13- CHHUKUNG TO ISLAND PEAK BASE CAMP
Altitude: 5200m
Time Taken: 4 hours
Today we climb south and then East to walk along the main line of the valley below the southern flank of Lhotse Glacier. Today's trek is pretty steep and the pleasant crisscross route through the Lhotse and Imja glaciers takes us to a wide valley  flaunting the Island peak. Walking further ahead we reach the base camp and stay the night there.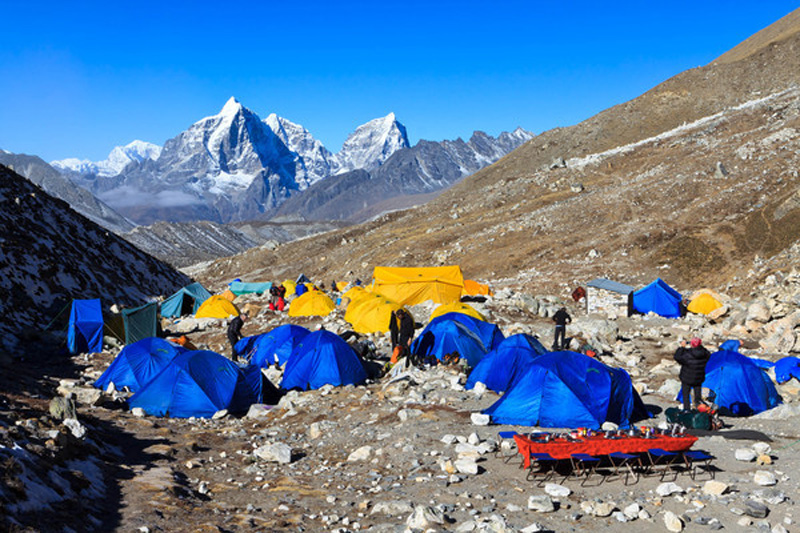 DAY 14- PRE-CLIMBING TRAINING ON ISLAND PEAK BASE CAMP
As to increase our chance of climbing the summit and to boost our confidence we begin some climbing training and learn some techniques after breakfast. We will provide proper guidance for using climbing gears like ice axe, crampons, harness, etc. so that you can get used to them. For the rest of the day we should not stay idle and go for a short hike instead. We prepare for the summit day and have some sleep at the base camp.
DAY 15- ISLAND PEAK BASE CAMP TO ISLAND PEAK  SUMMIT AND BACK TO BASE CAMP
Altitude: 6189m
Time Taken: 10-12 hours
In the afternoon the strong winds in the highlands might become a barrier for a successful summit, to avoid that we will wake up around 12 to 1 am and begin the climb after some breakfast. The path turns from sandy to Boulder strewn as the trail continues several hundred meters beyond the base camp. We will climb the short rock steps followed by the rock gully.
For safety, we will use both fixed rope and man rope whenever required. We will encounter quite afew crevasses and ladders would be used to cross them. Walking further ahead we finally reach the top and soak in the panoramic views that are thrown at us. We descend back to the base camp and celebrate our successful summit bid.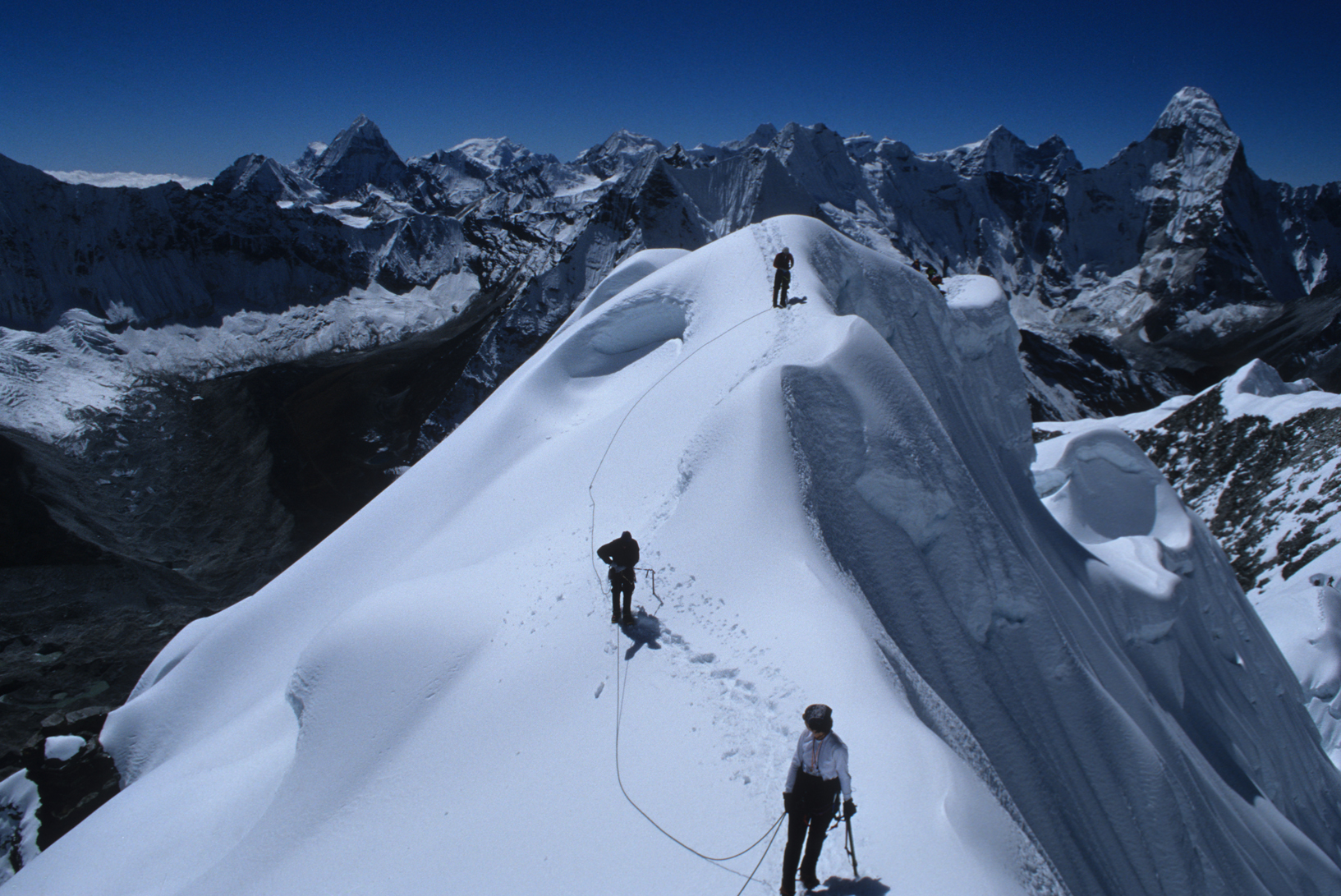 DAY 16- ISLAND PEAK BASE CAMP TO PENGBOCHE
Altitude: 3985m
Time Taken: 5-6 hours
Today we descend through an easier trek and reach lower altitudes with which we are familiar. We pass through the beautiful Khumbu valley and small Sherpa villages of Orsho and Shomare. We can visit the Gompa in Upper Pangboche which is believed to be the oldest in the region. Then we walk through the fertile valley to reach Pangboche which has incredible mountain views to offer. We explore the village and stay the night there.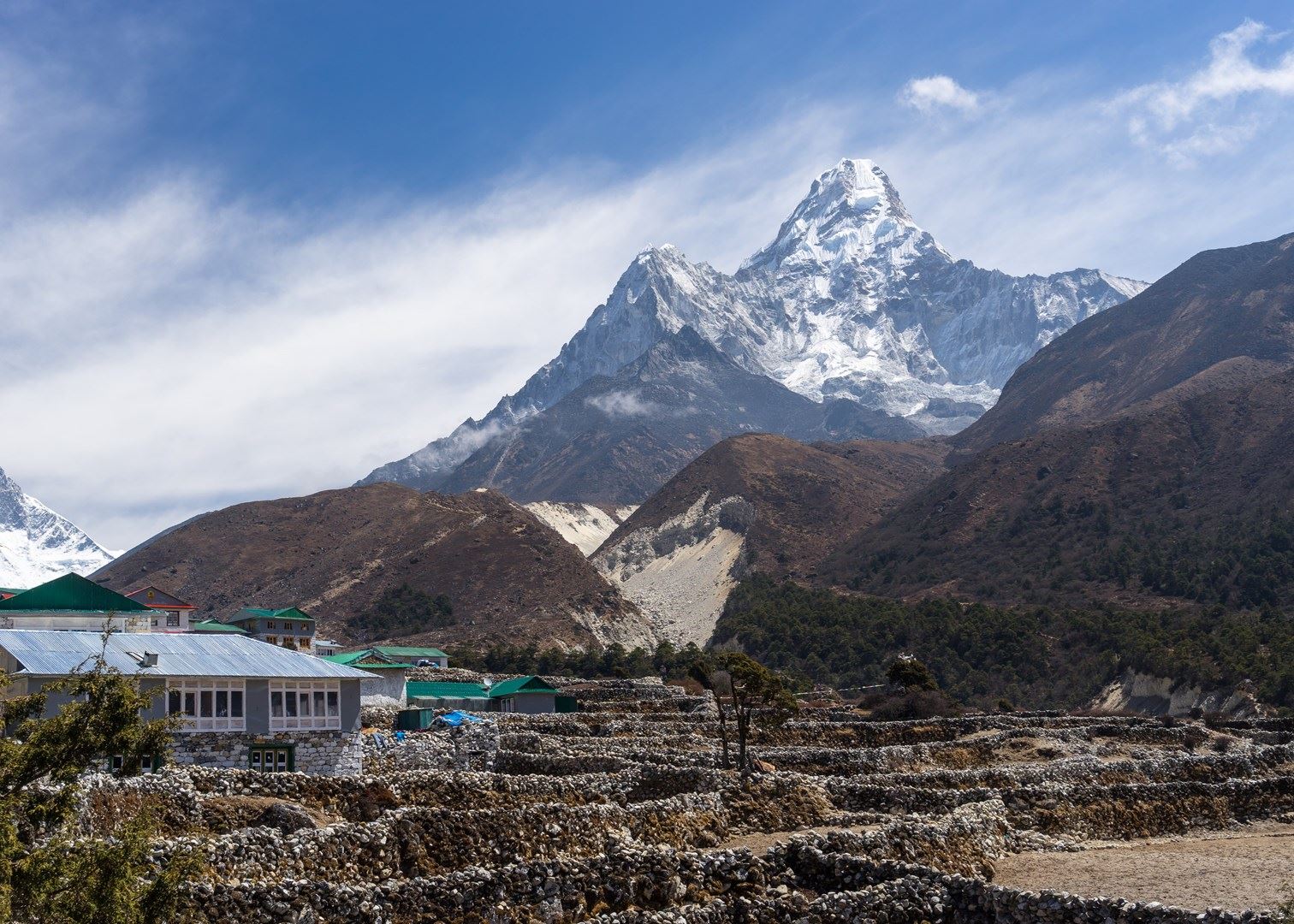 DAY 17- PENGBOCHE TO NAMCHE BAZAAR
Altitude: 3440m
Time Taken: 4-5 hours
We descend further today to reach the last village on our trek which is Namche Bazaar. Our route takes us through the forests of Tengboche  full of Rhododendrons and Juniper trees. We have our  lunch at Tengboche and head further down crossing the bridge over Dudh Koshi river with Pine forests on our side. We might as well see mountain goats, colorful pheasants and even snow leapords if we are lucky. Finally we reach Namche Bazaar and give rest to our tired bodies.
DAY 18- NAMCHE BAZAAR TO LUKLA
Altitude: 2800m / 9186ft
Time taken: 6 hours
Trek gradient: A steep descend initially followed by some ascend to reach Lukla.
DAY 19- FLY TO KATHMANDU IN MORNING
The next two days are for exploring the capital city of Nepal, Kathmandu. These days also act as buffer days to get your body acclimatize to lower altitudes again.
– KATHMANDU
The next two days are for exploring the capital city of Nepal, Kathmandu. These days also act as buffer days to get your body acclimatize to lower altitudes again.
These days can be spent exploring the Kathmandu valley which is the political, commercial, cultural hub of Nepal, framed for its natural beauty and historic and holistic places. Kathmandu valley contains three fabled cities, Kathmandu, Patan and Bhaktapur. Kathmandu city has an artistic exposition of graceful temples, elegant palaces, brick paved courtyards and giant streets. It is surrounded by green mountain walls above which tower mighty snowcapped peaks. The city has the pilgrimage places for both Hindus and Buddhists.
Some of the places you can visit during your buffer days include:
Visit Darbar square
Kathmandu's Durbar Square is one of three durbar (royal palace) squares in the Kathmandu Valley. It is the site of the Hanuman Dhoka Palace Complex, which was the royal Nepalese residence until the 19th century and where important ceremonies, such as the coronation of the Nepalese monarch, still takes place even today.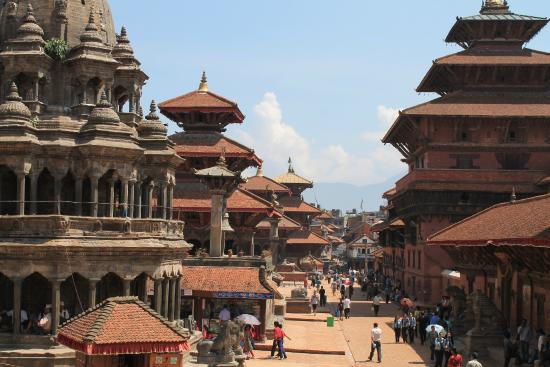 Visit Pashupatinath and Bouddhanath
Not only is Pashupatinath the most important Hindu temple in Nepal, its one of the most important Shiva temples on the subcontinent and draws numerous devotees from all over India each year. Pashupati is considered to have a special concern for the kingdom of Nepal.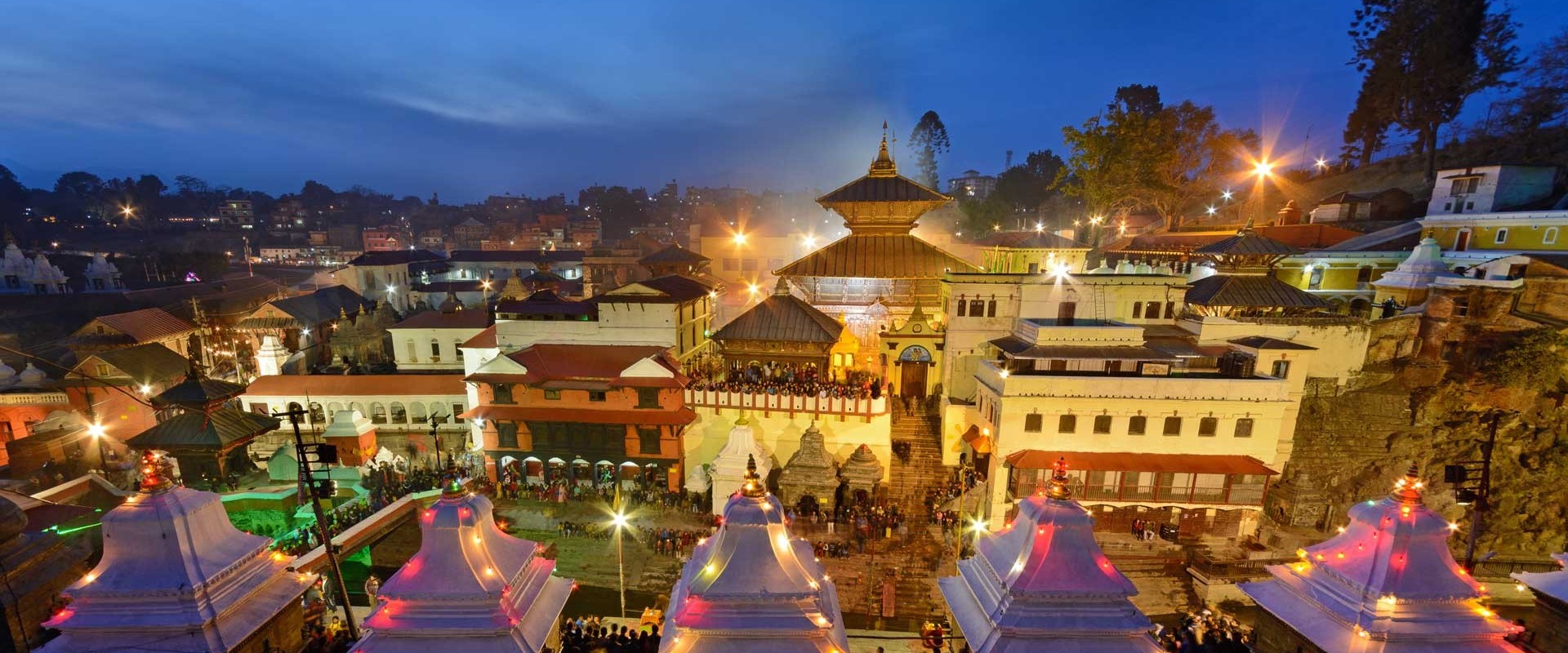 Bouddhanath is among the largest stupas in South Asia, and it has become the focal point of Tibetan Buddhism in Nepal.
Visit Bhaktapur City.
Bhaktapur Durbar Square is a conglomeration of pagoda and shikhara style temples grouped around a fifty-five window palace of brick and wood. Here you can visit The Golden Gate and The palace of Fifty-Five Windows.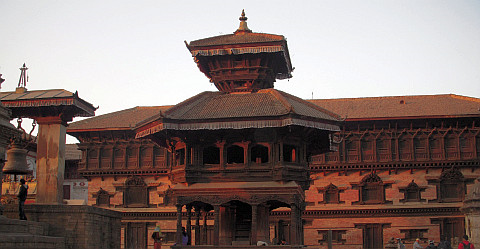 DAY 15- KATHMANDU
This day is also a buffer day for either sightseeing, or if you want to check off Bungee Jumping from your Bucket List, here's a chance. You can also do whitewater river rafting. Note that these activates aren't included in this package and its your choice if you want to do it.
For Bungee Jumping it's a 160m (500 ft.) drop into the Bhotekoshi River and the white water rafting, canyoning is done is river Trishuli.
Others can spend the day relaxing after accomplishing the feat of Everest Base Camp or exploring the rich and traditional culture of the locals.
DAY 16- FLY TO INDIA
This is the departure day as we say 'Namaste' to the memories that will last a lifetime. There are no activities planned for today and you are able to depart the hotel at any time. Check out time from the hotel is at 12 noon. If you are departing later, you can arrange luggage storage at the hotel.
At the end of your tour please consider donating to the KEEP Porters Clothing Bank. As you will have come to realise on your tour, porters play a vital role in the tourism industry enabling tourists to visit Nepal's most picturesque and difficult terrain. The majority are subsistence farmers who travel from lower areas of Nepal to the higher elevated trekking routes to find employment. Contrary to the belief that porters are well-adjusted to the cold and altitude of the Himalayas, every year many porters suffer from a variety of illnesses such as altitude sickness, snow blindness, hypothermia and frostbite and some even die as a result. The Clothing Bank was set up in 2009 to provide ill-prepared porters with better clothing suitable for trekking in a mountain environment and reduce the number of unnecessary illnesses and fatalities which occur each year.
Donations of other clothing items such as socks, boots, sunglasses, warm gloves and sleeping bags are always welcome. Your leader can ensure that your donation is passed on.