The Himalayas are the most iconic mountain ranges of the world and they have given birth to the highest peak of the world, Mount Everest. However, Everest's famous trek is not the only option as the Annapurna massif has a lot to offer as it contains several stunning mountain peaks– named Annapurna I, Annapurna II, Annapurna III, Annapurna IV, Gangapurna, Annapurna South, Machhapuchhre and gives incredible views of other peaks rising above 7000 to 8000 meters including that of Mount Everest.
Annapurna Base Camp trek has always been a very popular choice of most of the adventure trekkers in the world. A walk, all the way up to the altitude of 4,243meter not just greets trekkers with mesmerizing view of the Annapurna massif, Machhapuchhre, Gandharwa Chuli , Patal Hiun Chuli and other peaks rising above 7000 and 8000meter, but also with a stunning  landscape that present the glimpses of heaven on  earth. Moreover, the area is extremely prettified with the beautiful settlement of people en route to the base camp of Mt. Annapurna.
8 days Annapurna Base Camp Trek itinerary by FunExpedia is designed for those trekkers, who want to complete the trek in a very short period of time and also want to get the most out of trekking in the Himalayan Mountains without any compromises. This short Annapurna Base Camp trekking package includes full board (food and accommodation) during the trek, transportation cost from Kathmandu-Pokhara- Nayapul and back to Pokhara from Nayapul.  Trekkers can also a free map. The package can be further tailored to your requirements with a special group discount and 100% guarantee on departure dates. The major attractions of this trek include Pokhara, the village of Ghandruk and the base camp of Annapurna itself.
Annapurna Base Camp hike is considered as a moderate hike; therefore, any physically fit person having sound health can plan this trek. Moreover it is considered to be a trek which is more beautiful than Everest Base Camp trek. Annapurna range attracts more than 70,000 trekkers in an year, double the number of trekkers who do Everest Base Camp Trek.   Any time between March- May and September to December is the right time to plan this trek as every aspect of the trek, that is, trail, weather, temperature and visibility are very supportive during this time of the year.
Moreover, if you are looking to explore more areas of this region, we suggest you to try our 15 days Annapurna Base Camp Trek.  This package includes additional attractions like Ghorepani, Poonhill and the some of the World Heritage Sites of the Kathmandu Valley. If you choose this package, ChalKabira will be completely assisting you in everything you require (accommodation, restaurants, airport transfers, day trips and other extra activities) through your stay in Nepal as we will be there right from day you land at the Tribhuvan International Airport till the time departure time.
We always help you to make an informed decision. We can help you plan your trek any way you want. Enjoy!
Day 01: Drive from Kathmandu to Pokhara (820m/2,690ft) 6-7 hour
Today we will take the private cab to the city of Pokhara which is gateway to the Annapurna circuit. The  bus will move along  the western side of the Kathmandu valley through windy highway along the Trishuli River. The on our way we will get beautiful views  of waterfalls, rivers and jungles as we go higher up on the hills. We will stop for breakfast or lunch on the 200kms long journey through the valleys. After 6 to 7 hours of our departure we will reach Pokhara and get shifted to hotels. The evening can be spend exploring the city, its lakes and enjoy the night life of Pokhara.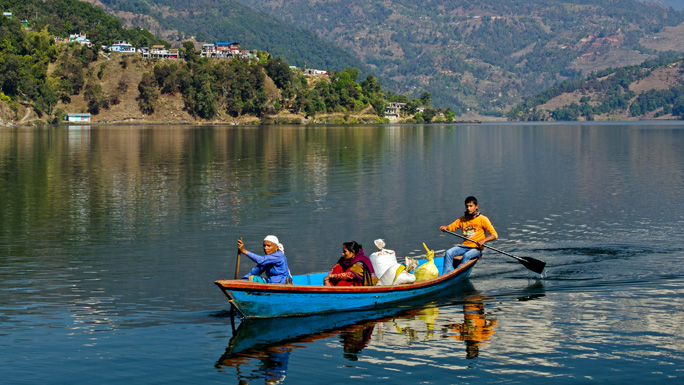 Day 02: Drive from Pokhara to Nayapul and trek to Ghandruk (1940m/6,364ft) 6-7 hour
The first day of the trek begins with the destination being Ghandruk, a beautiful Gurung village. We start from Pokhara in a bus ride of about 2 hours to Nayapul. On reaching, the trail descends to Birethanti, crossing the bridge over the Bhurungdi River The beautiful village of Birethanti is the place where trekkers fulfill the necessary check in formalities at the office of Annapurna Conservation Area Project (ACAP). From there, the walk begins upwards, towards the village of Ghandruk. Initially the trail surrounds the awe-inspiring Modi river which is flat till Syauli Bazaar continuing till Kimche. From Kimche, crossing Chane, the trail ascends towards Ghandruk. The evening can be spent exploring the village its culture, lifestyle, tradition, temple and mane. On request, we can also make the arrangements for a cultural show in the evening. The night will be spent at a lodge in Ghandruk.
Day 03: Trek from Ghandruk to Sinuwa (2,360m/7,742ft) 6-7 hour
Leaving Ghandruk behind, it's now time to hike up towards Sinuwa, the destination of the trek. Ascending the bank of the Modi river, walking past the huge boulders, we cross the bridge over the Kimrong River and climb a steep trail, crossing Jhinu Danda, to reach Chhomrong. Crossing the bridge across the Chhomrong river, the spectacular view of bamboo, rhododendron and oak forest can be enjoyed while hiking up to Sinuwa.  The night will be spent at a lodge in Sinuwa.
Day 04: Trek from Sinuwa to Deurali (3,230m/10,597ft) 6-7 hours
Starting with an easy walk from Sinuwa which continues till bamboo passing Kuldhigar, a steep stone staircase takes us to Dobhan. The trail accompanied by bamboo, rhododendron and Oak forest continues from Dobhan to a steep climb through the valley towards Himalayas and the Hinku Cave to reach Deurali. The night will be spent at a lodge in Deurali.
Day 05: Trek from Deurali to Annapurna Base Camp (4,130m/13,549ft) 6-7 hours
From Deurali, a gentle climb on a trail along with Modi river persists till Bagar and from there, a strenuous hike will take us to the base camp of Machhapuchhre (3,700m). After resting and enjoying the view of Machhapuchhre along with other snow capped peaks towering above 7000-8000 meter, for about an hour; we follow a wide trail that leads us to the Annapurna Sanctuary, further reaching the South Annapurna Base Camp. The night will be spent at a lodge in the Annapurna Base Camp.
Day 06: Trek from Annapurna Base Camp to Bamboo (2,340m/7,677ft) 6-7 hours
We descend today following the same trail we used to get up to reach Bamboo through the villages of Bagar, Deurali and Dobhan after enjoying the scenic views of mighty Annapurna Sanctuary. Throughout the trail we pass through forests lush with Rhododendrons, Oak and  Bamboos. We also come across waterfalls, caves and small temples on the way down. After walking for around 6 hours we finally reach our destination, that is, Bamboo and spend the night at a teahouse there.
Day 07: Trek from Bamboo to Jhinu Hot Spring (1,780m/5,839ft) 6-7 hours
Our trail today is full of up and down walk through rhododendron, bamboo and oak forests.  First we ascend up to Kuldhigar and then descend to reach a bridge to cross River Chhomrong passing the village of Sinuwa. As soon as we cross the bridge, we enter the beautiful settlement of Gurung people at Chhomrong. From here we hike further down through a steep trail to reach Jhinu Danda. You can offload your luggage at a lodge here and hike down for 20 minutes to reach the famous Jhinu hot water springs to relax your muscles after all the ups and downs of past several days and take a well deserved break.  We again hike up to Jhinu Danda and stay the night there.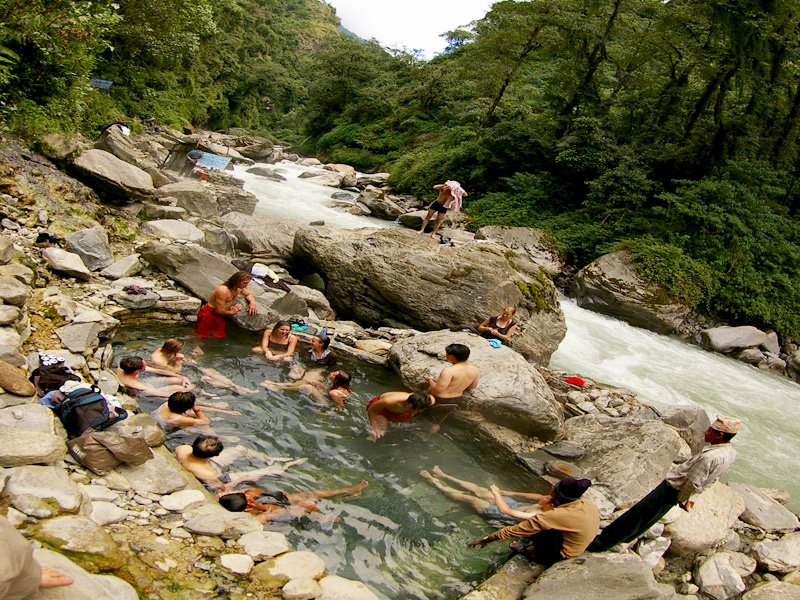 Day 08: Trek from Jhinu Hot Spring to Nayapul and drive to Pokhara (820m/2,690ft) 7 hours
Today is the final day of our trek and our destination is Pokhara. We cross bridges over Modi Khola river, walk through bamboo forests and pass by various small settlements up and down on the hill until we reach Syauli Bazaar. After Syauli Bazaar, the trail is a steep ascend till we reach Nayapul, we walk further ahead till Birethani. Again we cross a bridge over Bhurungdi river and finally reach Nayapul. Our trek comes to an end here and we bid farewell to some of our crew and celebrate the successful trek. Then we catch a bus or cab to Pokhara to spend the night there.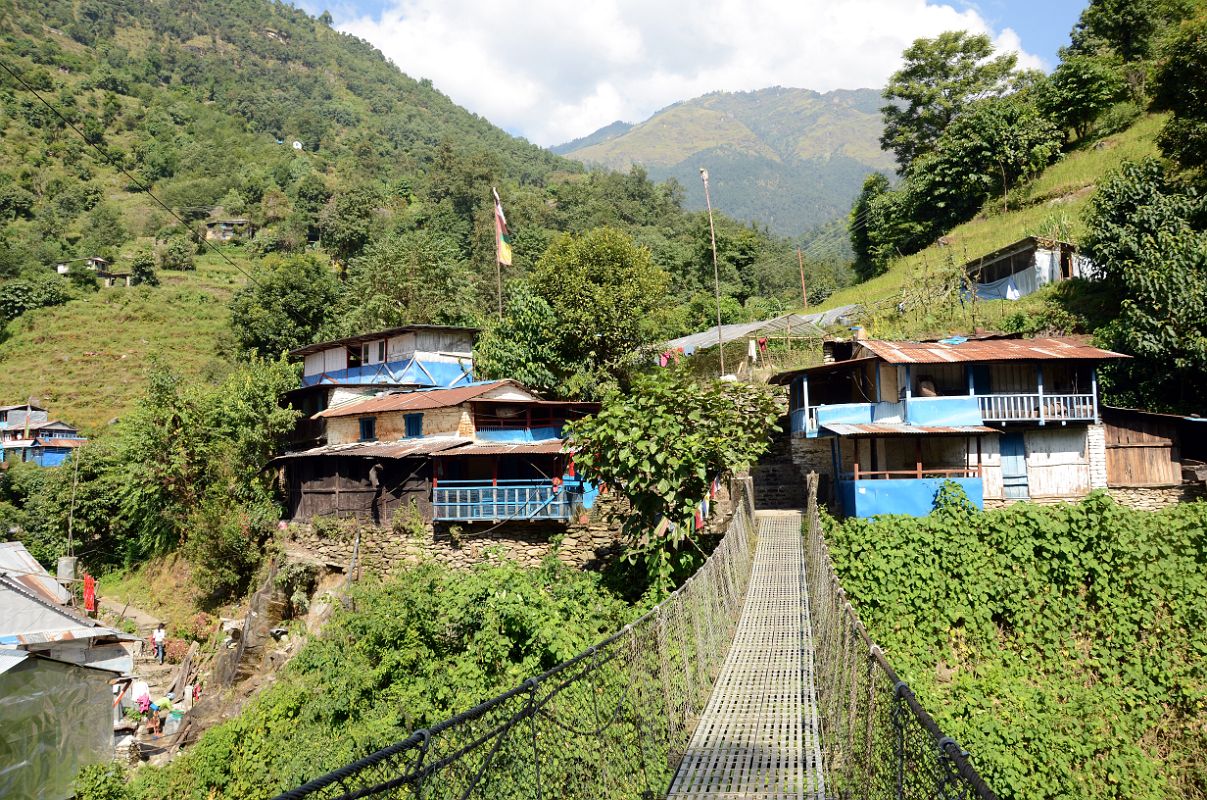 Day 09: Pokhara to Kathmandu (6-7 hrs): 220km
After breakfast, we catch a 6 to 7 hours bus or cab ride to Kathmandu. On the way back we reminisce about the trek and experiences we had in past several days as we pass by beautiful rivers, waterfalls, forests and the amazing mountain views the bus ride has to offer. On arrival at Kathmandu we shift to our lodge and you can spend the day exploring the bustling city.